Brand Identity Design
---
Working with media leaders, creating brand identities, and developing marketing infrastructures requires an understanding of the "big picture." However, the landscape is composed of well-placed, relevant details. These finer points, illustrated in research, concept, design strategy, and performance, are our focus.
The following projects have been carefully selected to highlight a cross-section of The Burbank Group's favorite deliveries.
Client: Andy Kushner Entertainment
Excerpt from Niche Portal:
Multi-talented, Award-Winning Entertainment Producer Andy Kushner turns simple ideas into extraordinary celebrations. Known as a trendsetter, Andy has earned multiple awards, including Entertainer of the Year and Best Entertainment Production.
Client: Suburban Media Group
Excerpt from Suburban Media Group's Landing Page:
"Once in a lifetime" moments are bursts of joy that leave us wanting more… Rewind, Relive, Rejoice! Suburban Media Group allows you to rewind the experience, relive the excitement and rejoice once again.
Client: Georgetown University DC Alumni Club - The flagship club of the Georgetown University Alumni.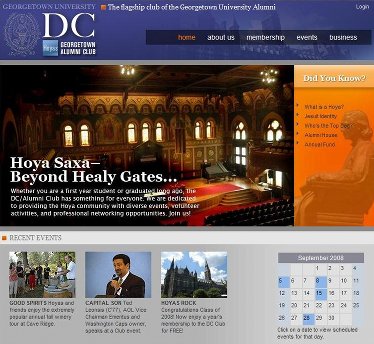 Excerpt from Website:
Hoya Saxa—Beyond Healy Gates...
Whether you are a first year student or graduated long ago, the DC Alumni Club has something for everyone. We are dedicated to providing the Hoya community with diverse events, volunteer activities, and professional networking opportunities. Join us!
Client: Hirsch Pediatrics

Winner: Health/Medicine Website -- 2007 international Summit Creative Awards.
Excerpt from Website:
Prescribing Innovation
The Hirsch Pediatrics Vision… Hirsch Pediatrics was designed to redefine virtually every aspect of modern pediatrics including the doctor/patient relationship, the office environment, patient/parent access to medical information, and more... My office is an extension of my home—my patients extend my family.
Client: Paragon Wireless
Excerpt from Website:
Write the Call
Paragon Wireless is a leader in the global cellular market. From our wealth of experience and innovative research and development endeavors, we are able to offer you insight into this burgeoning industry.